Whether it's the birth of a child, a promotion at the office, death of a national asset, or an anniversary, days will always have something to be remembered for. Now how do we humans mark this days you ask, we do big things to make sure we always remember.so festivals help us do just that. From the Stone Age, people kept memories by art on the wall, now we can keep this memories by celebrating.
Festivals are a great way to experience a destination in a unique and different way. And with several hundred festivals all over the world periodically – there are plenty to choose from. This week .We plan to feature festivals happening around world (April to august)
APRIL
Afrikaburn, South Africa(24th -30th April)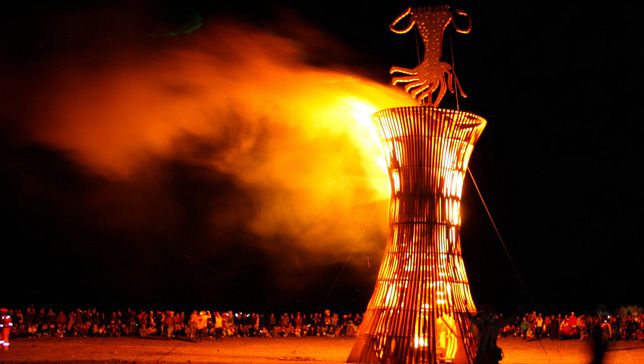 Afrikaburn is the continent's most alternative art festivals .the festival happens in tankwa town(a temporary settlement for 10,000 attendees in the Karoo desert).the tricky thing about this festival is that there are no entertainments organized(I know right). The creativity of the festival is up to the participants, as they create their own music and performance, bring along their artworks and some even create them right there. Africa's answer to Burning Man, the famous event held in the US, is more than a music festival: it's a surreal world of art, music and performance in the Karoo desert. Thousands of festival goers participate voluntarily to provide entertainment (anything from a circus to DJs playing out of a giant purple bus) and give gifts, from cocktails to ice creams.
Songkran Bangkok, Thailand( 13th -16th  April)
x
In Thailand the celebration of New Year is referred to as Songkran. The exact date varies every year depending on the lunar cycle but usually happens sometime in April. The traditional celebration of Songkran is to return to your families and pay respect to your elders by spraying a little scented water on their hands.
However, Songkran has changed over the years and has become a public 3 day water fight. It is near impossible to walk down the street without being sprayed by water. Shop owners will sit outside their shops with giant containers of ice water ready to throw at anyone walking by, while others will roam the streets, tourists from all over the world will travel to Thailand to take part in these celebrations. So expect water fights on every street, and music and dance performances on stages throughout the city.



MAY
Harare international festival of arts, Zimbabwe(1st-6th may)
Over the years, HIFA has become the biggest cultural event in Zimbabwe and among the Top 10 festivals in Africa. Held annually in late April or early May, HIFA is a major contributor to the development of arts and culture in the country. The 6-day festival/workshop program showcases the very best of Zimbabwean people, regional and international arts and culture via theatre, fashion, dance, circus, street performance, spoken word, music and visual arts.

MTN Bushfire, Swaziland (25th -27th may)
Swaziland's internationally acclaimed music & arts festival that celebrates creative expression whilst promoting social responsibility, stimulating the economy and drawing talent and tourists from across Africa and around the world.
An internationally acclaimed festival hosted by South Africa's telecomm giants MTN. Each year a multi-generational global community of more than 20,000 converge to the scenic farmlands of the Malkerns Valley to experience the three day event renowned for eclectic and multi-dimensional programming rooted in world music including a compelling line-up of theatre, poetry, dance, art exhibits & installations, story-telling, puppetry, film, and themed workshops. A vibrant handcraft market, family-friendly performances & Kid Zone as well as the recently introduced interactive art and dialogue space, The Barn, all combine to create a magically eclectic three day entertainment experience.

JUNE
The San vino wine fight. Spain(29th June )
Spain's annual Batalla de Vino (Wine Battle), must be one of Europe's most unique and underrated annual festivals. This wild event takes place on the morning of June 29th each year. But the night before is when the party really gets started. The festivities draw a mostly local crowd, making it a fun cultural experience as you stay up all night drinking and dancing in the streets until the wine fight begins in the early morning hours in the small village of Haro, thousands of celebrators emerge to a hill just after sunrise to wage war on each other using red wine as their firearm! Water guns, insect sprayers, and buckets are all filled with the deep red liquid that leaves attendees stained from head to toe.

AUGUST
Chale Wote, Ghana (24th-26th August)



Colours poping up on every street as you walk from street painting, graffiti murals, photography, theater, spoken word, interactive art installations, live street performances, extreme sports, film shows, a fashion parade, a music block party, recyclable design workshops and much more is exactly what happens when you take out time to enjoy art in its purest and most often modern form.(plan a trip here)